New York Karaoke Rental is a business the sister company of Hot Traxx DJ, U-rent Karaoke
and Sight & Sound Electronics founded in 1981. Our Business is Audio and Lighting Engineering, sound re-enforcements and design. We have been doing karaoke since 1984, with our DJ services Hot Traxx DJ & Karaoke, Rhode Island Disc jockey-DJ Service, Massachusetts Disc jockey-DJ Service and Connecticut Disc Jockey Service.
We have performed and serviced most of the DJ and Karaoke Venues from the New York border to the New Hampshire border, for over 25 years. Our steady customers from southern Connecticut quite often asked us about entering New York City. Man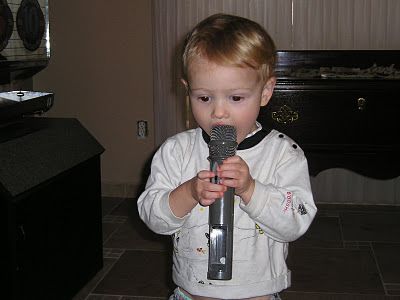 y of our customers work in Manhattan, and have businesses in the five Boroughs of NYC. After viewing the Karaoke rental services in New York City, we have found a need for a service such as New York Karaoke Rental. The founders of our karaoke rental businesses have found this venture to be most promising.
We are also offering Asian Karaoke in New York (Brooklyn, Queens, Manhattan and The Bronx). Our service first started Asi
an Karaoke in Boston with the Asian Council of Boston. Now we support the Asian businesses and the Asian communities throughout New England with Karaoke Machine, Karaoke Song and DJ Equipment rentals. Our Karaoke music is ordered directly from China and Japan, to keep up with the new releases. If you have any questions please call our staff at 1 (646) 657-1630. We leave no question unanswered. We are open from 9:00 AM until 2:00 AM.
Thank you for your time.
Eric Starr
Running the Karaoke words to the band while playing At The Cutting Room on July 22, 2013. Matt R and Raymond Baptista Donated there time to put the Lyric to the band For: Idina Menzel and Taye Diggs sing a duet at their karaoke benefit for their charity, A Broader Way, a performing-arts camp for girls With host Whoopi Goldberg and perormances By: Billy Porter, who recently won a Tony for 'Kinky Boots. Jenn Colella, Jeanine Tesori, Adrienne Warren, Jenn Colella and Anthony Rapp. Please read the article by the The Wall Street Journal:
Idina Menzel and Taye Diggs sing a duet at their karaoke benefit for their charity,
A Broader Way, a performing-arts camp for girls.
We've often dreamed about arranging our own celebrity karaoke tournament as a fundraiser.
First of all, if you believe what you read, a lot of celebrities like karaoke, so of course they would want to participate. As we see it, there would be teams (maybe two, maybe more); there would be categories of songs (Motown, show tunes, rap, dance, current pop hit); and there would be some sort of point system based, potentially, on voice, performance quality, choreography, song choice and pure charisma. The winning team would get to choose a charity where the funds—raised from ticket prices and the fees regular people would pay to participate on the karaoke teams with celebrities—would be donated.
Not that we've thought about it a lot, or anything.
On Monday, the acting couple Idina Menzel and Taye Diggs—they met while performing in "Rent"—threw a karaoke fundraiser for their charity, A Broader Way, at the Cutting Room. Helping them out in the endeavor was Ms. Menzel's college roommate from New York University, Heather Zuckerman, of the asset-management firm Neuberger Berman.
Since 2011, A Broader Way, a name that is meant to evoke Broadway, has invited 30 or so young women from New York City to a 10-day performing arts camp. Under the tutelage of Ms. Menzel and Mr. Diggs, along with some other theater professionals including the composer Jeanine Tesori, the children write and stage their own production, which they then perform for parents and friends in the city. The next session starts in mid-August.
Ms. Menzel and Mr. Diggs set up their karaoke benefit like this: Attendees were given a booklet of songs that a live band could comfortably perform. They were then asked to write requests for the group of actors who were on the docket, including the couple's "Rent" co-stars Anthony Rapp and Daphne Rubin-Vega, as well as Billy Porter who just won a Tony for "Kinky Boots."
In addition, you could buy a raffle ticket for $50 to enter into a pool to be the one person chosen to sing a song with one of the musical-theater stars. Ms. Tesori encouraged us to throw our hat in the ring—we would have sung "Stay" by Rihanna had we had the shot—but we knew the odds weren't in our favor.
While it would have been fun to watch Mr. Porter sing, say, Taylor Swift's "We Are Never Ever Getting Back Together," or Mr. Diggs sing "Tik Tok" by Ke$ha, or Ms. Menzel sing "Rolling in the Deep" by Adele under the gun, after reviewing the requests in a green room, the performers mostly chose songs that they knew how to sing comfortably.
Mr. Porter sang "New York State of Mind" by Billy Joel, for instance, and another actress, Adrienne Warren, did a rendition of "I Will Always Love You" by Whitney Houston she had clearly practiced—if not in a studio than at least in her shower—many, many times. Eventually, audience members started making pay-for-play requests—$2,500 for "Light My Candle," someone shouted—and the evening became a full-on "Rent" tribute with "Defying Gravity," Ms. Menzel's anthem from "Wicked," thrown in for good measure.
"I was prepared to sing it if it got called," said Ms. Menzel, who explained that she's not really a fan of karaoke at all. "When you're a professional singer people think you're showing off."
But years ago, when she and Mr. Diggs were married, their rehearsal dinner had a karaoke theme. It had been such fun that they had always wanted to execute the idea on a larger scale. "People are exhausted by the constant string of ordinary benefits," said Ms. Menzel, especially theater people who are always asked to perform on their Mondays off.
"You get to see what goes on behind the curtain," added Mr. Diggs.
For the last few years, A Broader Way has been working with the same group of girls. The program lasts four years; next year they will invite a new crop of 10-year-olds. Eventually, said Ms. Menzel, she would like to expand the program, perhaps, to other regions of the U.S. and set up scholarship funds.
A few of the girls from the camp came to the blazingly hot Cutting Room on Monday, and were interviewed, on stage, by Whoopi Goldberg. They also read poems and did a camp chant.
"All of you are me," said Ms. Goldberg. "Now the world is yours and it's open. No one can make you feel bad for being fantastic."
Write to Marshall Heyman at marshall.heyman@wsj.com By
MARSHALL HEYMAN
___________________________________________________________________________ My name is Raymond Baptista, I read your article. I domnated my time with Matt R. We put the lyrics on the teller prompt for the performers. I loved the article so much. It is a good cause. I would like to receive permission to post it on my website, so people I know will donate to this good cause.
Thank you,

Raymond Baptista
____________________________________________________________________________
that should be fine! thanks for the note!
Marshall Heyman
The Wall Street Journal